Apartments in Budva (Montenegro) for rental without intermediaries, from €25
Dear visitors, welcome to the official website of "Apartment Dragana Budva" – one of the most popular accommodation in Budva. We offer you to rent apartments in Budva near the sea for a cheap price. Comfortable location. Free high-speed Wi-Fi, free parking, and a beautiful area. Book the apartment in Budva, Montenegro immediately! Official collaborations, cheaper prices, and seasonal discounts. The apartments in Montenegro, Dragana Budva – it's a paradise for an unforgettable holiday!
years of experience in renting apartments
reliable information about apartment
Rent apartments Budva
We can offer accommodation in Budva for a few days, for one month. Also, we can propose apartments in Budva for the long term until the season.
"Apartment Dragana Budva" is a family business that provides its guests an unforgettable holiday.
To see detailed description of apartment, click on the page "
About apartment
".
Our rich experience in tourism we want to convey to you, and show you why our guests are always satisfied with us.
We will do everything to make you feel comfortable and carefree. Not to mention, our obligation is that you get the best service, service that we are very proud on. Also, we:
Organize transfer from airports (Podgorica, Tivat and Dubrovnik) to our apartment and back;

Inform you about all places of interest here and throw Montenegro;

Inform you about all other important things (shops, markets, restaurants);

will be at your service during your stay!
Are you looking for apartment on a quiet place, but still near to every major amenity?
Do you want to rent apartments in Budva where you can finally rest and really enjoy your vacation?
If the answer is positive, then "Apartment Dragana" is the great choice for you!
Exotic landscapes are not always far away and difficult to reach.
In the center of the Adriatic coast, Budva is waiting for you. So, vacation of your dreams can start, here!
Accommodation Budva
Rent apartments Budva means to provide an memorable vacation in one of the best sea resorts in Montenegro. There is a beauty that you can never get enough of it. Same, but still different. Familiar, but still mystic and unreachable. It relaxes, rests, seduces and attracts. The beauty that will take your breath away. The beauty that we are constantly searching for. And, if we are lucky enough, we will always return to it. Budva is the metropolis of Montenegrin tourism. It represents the most desirable tourist destination, especially famous for its sandy beaches, rich culture and nightlife.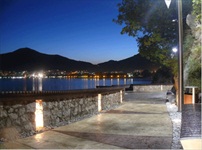 Budva apartments
Night bars, terraces, outdoor discos are a real attraction for all young people, especially in the long sleepless summer nights. Certainly, for many tourists, these nights are the most interesting and the most complete part of their vacation. During the last 15 years, Budva became a synonym as the most famous tourist town for young people. Paragliding, aqua ski, bungee jumping are just a part of the many challenges that will make your stay interesting. Budva accommodation will always allow you to relax and regain strength before another dive into the world of pleasure. Rent apartments Budva will cost much cheaper than staying in hotels.
Holiday apartments Budva
Not less interesting city for members of other generations and for people of quiet spirit. There are many beautiful arranged restaurant's gardens. Here you can enjoy until the dawn with high quality domestic vines, various aperitifs and the sounds of easy music. Also, tourists with more advanced tastes and desires can enjoy in numerous fine art exhibitions, musical and literate nights that are a part of the cultural summer on the traditional festival – Town theater. Budva accommodation is a guarantee of a peaceful vacation! Want to give yourself a fairy tale? In brief, rent a cheap apartments in Budva via us.
"Apartment Dragana" in short:
Accommodation in Budva near beach and all important amenities;
Budva accommodation for four adults in a studio apartment;
Apartments Budva during the whole year.